A Decade of Hands-On Help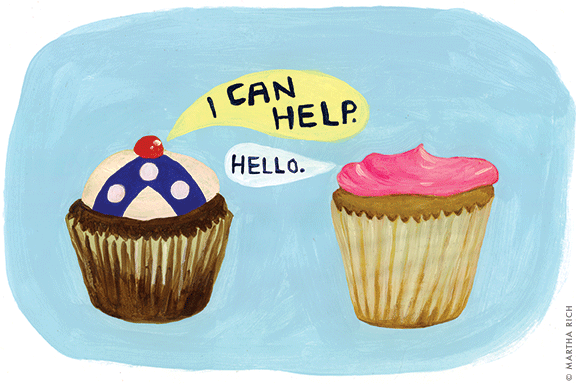 Ten years is a short span at Penn, where the Perelman School of Medicine is marking its 250th birthday this year. But it has been long enough to establish the Weingarten Learning Resource Center (WLRC) as an essential fixture on campus.
This was illustrated over Homecoming Weekend, when the WLRC held a "Cupcakes and Conversation" event to mark its first decade. The center welcomed alumni who remembered the center's Stouffer Commons headquarters when it was still just a dining hall, as well as more recent graduates who recalled the role the WLRC played in their academic journeys at Penn.
"One alum celebrating five years [since graduating] brought her friend back to say that this was a space that helped her graduate," says WLRC executive director Myrna L. Cohen Gr'92.
"I am always amazed at how our numbers have grown," she adds. In 2004, the WLRC conducted about 2,700 support sessions for around 1,200 students; this past year, it provided more than 4,200 sessions for nearly 3,000 students. "When we moved in here 10 years ago, we thought, 'What would we do with all this space?' Now we don't have room to do all the things we want to do."
The center is named after Susan and Jeffrey Weingarten W'70, who envisioned a place that would help students like their daughter, Amanda Weingarten C'05, who was a senior at Penn when it opened ["Gazetteer," Jan|Feb 2005]. Today the center serves students with learning and physical disabilities, as well as those who simply seek help navigating Penn's demanding academic environment.
Cohen attributes the growth of the center's activities to the increasing willingness of students to identify themselves as learning-disabled. Ten years ago, 946 students interacted with the WLRC's Office of Student Disabilities Services (SDS), 790 of whom had documented disabilities, she says. Last year, SDS served 2,047 students, including 1,119 with documented disabilities.
The WLRC has tools to help them. For students with dyslexia or visual impairments, it offers eText, which can turn textbooks, handouts, and articles into a digital format augmented with auditory features so that students can listen to text as well as read it. The center also offers the magnifying software ZoomText for students who are visually impaired, and captioning for students with hearing impairments.
In addition, SDS helps students with medical conditions stay healthy by connecting them to appropriate dining options and housing accommodations.
"I think students have gotten the message that there are resources at Penn," says Cohen, "and it's the wise students who use this resource."
Appointments with instructors in WLRC's Office of Learning Resources are typically booked throughout the semester. Athletes, international students, and students adapting to new programs get one-on-one help. On top of individual attention, WLRC offers workshops on studying strategies, effective note taking, and time management; it also hosts orientations for international students.
"Our biggest challenge right now is matching all the requests with the space that's available," Cohen says. "We are a very creative and innovative office. There is always a new idea or request. [We have to] balance what we have done with what we want to do."
—Tiara Kittrell C'15