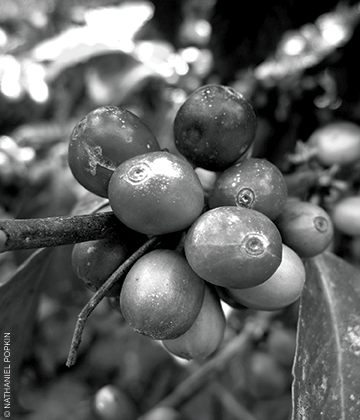 A technologically literate workforce is becoming more important as growers seek to measure the impact of inputs—wind, soil, sunlight, pruning schedules, and worker incentives—on the number and quality of outputs—ripe, pre-milled coffee beans, known as "cherries."
---
In 1992, the Baltodanos purchased Buenos Aires. Almost immediately, Duilio fell in love with the lustrous hills. He preferred to sleep in the casa técnica at the center of the farm, where the farm managers took their meals. And he noticed the sorry state of the Buenos Aires school, a pitiful one-story wooden shack with a tin roof. The school kept no records, had no books, and no regular teachers.
"My grandfather said, 'If you get a good education, then that's the best inheritance, no one can steal it from you,'" says Baltodano. "My sense was that by giving opportunity to members of the community, we could not only increase efficiency and production among workers, but also bring hope."
Education reform has long been a critical lever of economic advancement in Nicaragua. In 1980, the Sandinista "literacy crusade" reduced analfabetismo from 50 percent to around 10 percent. At that time, only 38 percent of children were enrolled in primary school. By 2006, when the Sandinista leader Daniel Ortega was reelected President, the rate of enrollment had doubled. He declared primary education a basic right and set the goal of 100 percent matriculation by 2012. But government investment in schools, at 3.7 percent of GDP, isn't nearly enough to build the necessary classrooms, and teacher pay is the lowest in Central America. So private-sector firms like CISA are expected to step in to fill the gap.
The Baltodanos fixed up the Buenos Aires school, and eventually, with the help of a 2003 World Bank loan, built a new campus adjacent to the barracks used for cortadores (seasonal coffee pickers). For each grade cohort, a separate brick structure—albeit without electricity or running water—was constructed. Volunteers painted the buildings blue and white, the national colors. The new buildings were designed to maximize both light and shade and to provide a safe, contained play area.
But a modern school, in Baltodano's mind, was synonymous with the use of technology. This made sense for even more pragmatic reasons. On a sustainable coffee farm it is necessary to measure the value of the inputs—wind, soil, sunlight, pruning schedule, and worker incentives—on the number and quality of the outputs, called "cherries" (ripe, pre-milled coffee beans are a shiny, dark red). Baltodano also wanted to precisely manage the complicated process of coffee harvesting, wet and dry milling, and distribution, and to do so he had software designed that required farm managers and foremen to use handheld devices in the field. Historically, the Nicaraguan coffee harvest had been the least productive in the region, but with a technologically literate workforce, it could surpass its rivals.
At around the same time, MIT Media Lab founder and chairman emeritus Nicholas Negroponte was designing a small, durable laptop computer, which he believed—if widely distributed and connected to the Internet—could transform the lives of the world's poor. Children would guide their own learning, instilling in them a sense of ownership and limitless possibility. The project was named One Laptop Per Child. In 2008, the first of Negroponte's XO laptops appeared in schools in Nicaragua.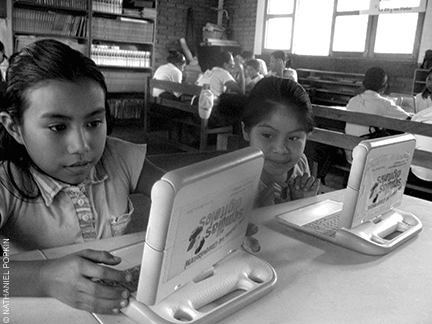 Two children try out the XO laptops.
---
That year, the girlfriend (and now wife) of Baltodano's son Ernesto, Adriana Chamorro GEd'12, was working as a volunteer at Nicaragua's only psychiatric hospital. Chamorro was helping the under-resourced hospital staff devise systems of care. One of her colleagues told her about a researcher from the US who had been developing new standards for training and professional development of family therapists and school counselors in Ecuador and was an expert in applied international development at Penn's Graduate School of Education (GSE). Chamorro tracked down the professor—Sharon Ravitch—who, in addition to running the project in Ecuador, had initiated a participatory study on women's access to justice in war-torn countries and was working on teacher professional development in post-tsunami Banda Aceh, Indonesia. Ravitch agreed to conduct a workshop at the psychiatric hospital. In Nicaragua, Chamorro told Ravitch and Matthew Tarditi, a GSE student who had come along as a research assistant, about the Buenos Aires school. Would they like to drive five hours north to see it?
Ravitch, 41, has wild brown curly hair and a wide, persuasive smile. She talks with her hands, curses joyfully, and laughs like a knowing accomplice. She was raised with a strong social conscience. When she was young, her mother stopped celebrating Thanksgiving because it marked the beginning of the persecution of Native Americans. Her father, who grew up in a tough Philadelphia neighborhood, started out as a salesman, and her parents struggled financially. When Ravitch graduated from Temple University in 1993, she asked how she could ever repay them. Tikun olum (Hebrew for healing the world), her parents told her: just do good.
Since earning her doctorate at GSE in 2000, Ravitch has taken on applied educational-development projects around the world. In October 2011 she was named the senior international advisor to Haiti's Ministry of Education and assigned, post-earthquake, to guide the rebuilding of the nation's system of education.
She and Tarditi took Chamorro up on her offer. At Buenos Aires, they accompanied Duilio and Ernesto Baltodano to the school. The children gathered around while Ernesto and Duilio demonstrated on a sample XO laptop they had acquired in anticipation of bringing technology to Buenos Aires.That night Duilio brought Ravitch out to the porch of the family house, which sits at the highest point of the farm. From there, in the dimming light, the mountains seem to dissolve into the clouds and every few minutes a monkey howls, which has the effect of marking points in the unseen forest as stars do in the night sky. Baltodano mentioned his desire to bring One Laptop Per Child into the classroom. He was certain that if the children of Buenos Aires were exposed to computers, "they will be the ones telling us what to do." He asked Ravitch to run the project.
"It will fail," she told him, explaining that implementing OLPC alone would repeat the same colonialist pattern that has dominated the field of international applied-development for decades and which proceeds with the assumption that Western outsiders bring expertise to infantile and incompetent (and even disinterested) locals.
"I'm an education professor at an Ivy League university in a large city. We can't even get our own school system together," Ravitch says. "So what makes me an expert? Who am I to bring something to a community without engaging with them in figuring out if they even want this kind of 'innovation' for themselves and their children? And so I said absolutely not."
If the intention was to hand out computers with a few brief workshops for teachers, it wouldn't build capacity, she explained, and ultimately it would be a waste of money and time.
"My argument was not to say, 'If you build it they will come,' but 'If we co-construct it, it might be sustainable.'" Give me a chance to study and engage with the community, she countered, to learn from and partner with the teachers, parents, and farm workers. Only then can adequate interventions be devised.
But, she insisted, this can only work if it's done rigorously and systematically. "I am a methodological purist," she says. Perhaps because she was raised on the aggressive streets of Philadelphia and Tel Aviv, where her family spent its summers, Ravitch is assertive, demanding, and sometimes severe in her judgment. She is also deeply compassionate. The combination of these qualities seemed to move Baltodano, who could have just as easily told her to get lost.
As it turned out, he wanted someone like her—someone persistent and confident who wouldn't be intimidated by the nearly overwhelming obstacles. And then there was chemistry, a kind of shared irreverence, and on that warm night on the farm, they shook hands and cemented a future of collaboration and hard work. Ravitch would head the project to build the curriculum and pedagogical framework of the Buenos Aires school, with the goal being to develop and advance a model approach to the other 15 schools sponsored by the Baltodanos' firm—and eventually, they concurred, their aspirations feeding off each other, to the entire nation.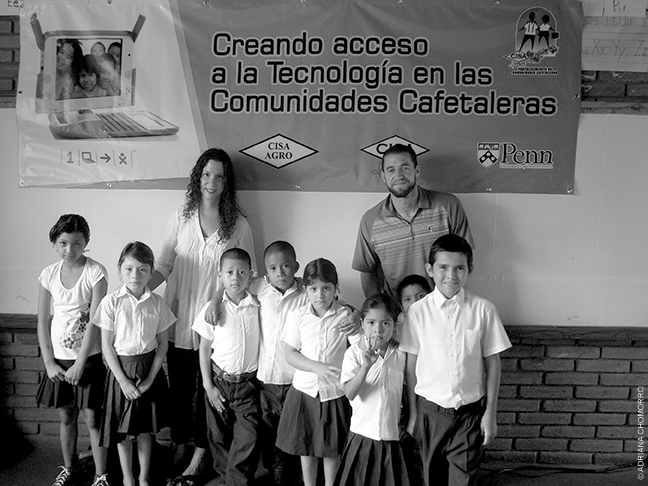 Sharon Ravitch GrEd'00 and Matthew Tarditi GEd'10 GrEd'14 and students. The banner behind them reads: "Creating access to technology in coffee communities."
Since OLPC's introduction in 2005 and after several redesigns of the XO, the bright green and white laptops have become a symbol of international development. Negroponte's vision was to place them in locales of deep poverty, where few children attend school and many teachers are illiterate, if they ever show up at all. (In Nicaragua a great many rural teachers travel to their remote schools on Monday, teach Tuesday, Wednesday, and Thursday, and go home on Friday.) The computers, under these harshest of circumstances, are meant to be everything: curriculum, school, and teacher. They are certainly powerful enough. Negroponte often notes that each XO can hold 100 books. It's impossible to imagine, he says, being able to afford sending thousands of books to thousands of villages in Africa, South Asia, and Latin America.
The reality has never quite matched Negroponte's vision. The vast majority of the two-million-plus laptops sold so far have gone to relatively wealthy nations with the resources and digital and educational infrastructure to absorb them. In Nicaragua, with a primary-school population of some 835,000, about 27,000 XOs have been distributed to about 90 schools, most of them by the Zamora-Téran Foundation, OLPC's proprietary distributor in Central America. The relatively short reach makes sense, according to Mark Warschauer, a professor of Education and Infomatics at the University of California-Irvine and one of the most careful observers of OLPC.
Very poor nations such as Nicaragua can't afford to provide a computer for each primary-school student, Warschauer explains. The money spent on OLPC, he argues, would be more effectively invested in classrooms and teachers.
"OLPC represents the latest in a long line of technologically utopian development schemes that have unsuccessfully attempted to solve complex social problems with overly simplistic solutions," he wrote in a paper coauthored with Stanford doctoral student Morgan Ames in the Journal of International Affairs.
To help me understand Warschauer's point, Ravitch describes the ubiquitous case of a Nicaraguan school without a toilet or running water. USAID, which carries out a great deal of development in Nicaragua, would respond to the unhealthy conditions by installing latrines.
"The latrines were an answer to a question, but it wasn't a question Nicaraguans themselves were asking," she says. "The latrines didn't do away with health hazards, they increased them. And you will see there are latrines spread all over the rural landscape and upwards of 50 percent are already unusable. All too often in the development world, it's not about partnering to see what the local resources or the needs are, it's about buying latrines."
The lesson, Ravitch argues, is that international development projects have to be co-constructed—meaning that local people work directly to identify problems and to design and implement solutions—and they have to be porous, meaning all constituents learn from each other and help the project evolve in ways that may not be immediately apparent. The overall approach is called participatory emergent design.
"Everyone agrees that capacity building is critical," she says. "Yet what is required to develop and sustain a truly bi-lateral process is an incredible amount of interpersonal, psychological, and institutional consideration that goes well beyond clean research design."
Ravitch agreed to build the project around the use of technology as a tool of innovation in the classroom. In exchange, Baltodano put aside his desire for immediate impact. He approved Ravitch's proposed eight-month process of comprehensive ethnographic study of the farm community, which Ravitch calls the "gold standard" in applied development. The study would come to reveal the local knowledge, skills, and resources that could be brought to bear on the school.
But by far the greatest focus of the project and perhaps its most significant ideological break with OLPC is to concentrate resources on teacher professional development.
"Teachers around the world are deprofessionalized," says Tarditi. In Semillas Digitales, despite the terrible government salary of $190 per month, teachers are positioned as partners.
"It's a dream," says Baltodano. "But what we're doing is training teachers. They're the ones doing it and they're anxious to be better at it."
Ravitch and Tarditi, who had agreed to run Semillas Digitales in its first year and then hand it off to local managers, found a powerful and receptive ally in Duilio's dark-haired 30-year-old son Ernesto, whom Ravitch calls "deeply and abidingly committed to Nicaragua, the legacy of a family who has suffered greatly despite their wealth."