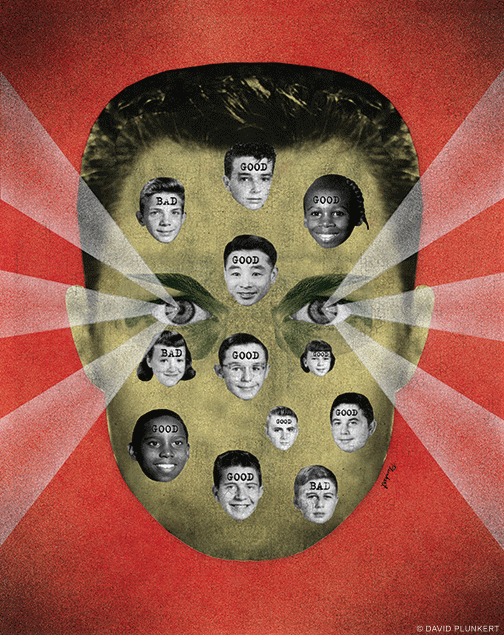 "Heinous killings are not going to go away—unless we take fairly radical steps," writes Adrian Raine in "The Future," the final chapter of  The Anatomy of Violence. "It's in this context that I want to explore with you the possible directions neurocriminological knowledge may take us in the future—for better or for worse—in preventing these and other tragedies."
Raine makes it clear that his goal is not to scare people but to begin a discussion about the complex scientific and ethical issues involved. But, he told senior editor Samuel Hughes, "I wanted to be upfront and transparent about the honest concerns that many people have, and hopefully to try and finish on a positive note: that by taking a biological approach to crime, just like we've had breakthroughs in cancer research, maybe this could lead to a breakthrough in reducing crime and violence."
In this essay, adapted from his book, Raine begins by imagining a new scenario for Kip Kinkel, the very real 15-year-old who murdered his parents, then went to his Oregon high school and sprayed bullets into 27 students, two of whom died. He was sentenced in 1998 to 111 years in prison without the possibility of parole.
---
EXCERPT | We new now move into the future. We pluck the same Kip from 1993 and skip him 40 years ahead in time to 2039. He is now a 10-year-old schoolboy, five years before the fateful killings. A new school screening program has identified him as a potential killer. He obtains residential state-of-the-art treatment that successfully tackles the neurodevelopmental factors placing him at risk for future violence. He is later released and lives out a normal life as a crime-free citizen and functional father. Bill and Faith become doting grandparents, two other children live out their lives instead of dying a harrowing death, and 25 more people are no longer life-scarred victims of deadly assault.
The tipping point came in 2033, when one "low-risk" mentally ill offender was released early on supposedly supervised medication to help relieve the massive prison overcrowding. Through an administrative oversight his dangerousness assessment report had been mixed up with that of another offender. He was high-risk—not low-risk. Just two weeks after his release he held up a store in Washington, DC, during which a young woman was killed in crossfire between the ex-con and the police. By sheer bad luck the victim was the US attorney general's daughter.
This incident, combined with the mounting economic and public concern, now leads the government to launch the LOMBROSO program—Legal Offensive on Murder: Brain Research Operation for the Screening of Offenders. The logic behind LOMBROSO is surprisingly simple. Back at the turn of the century, in 2006, it was known that 22 percent of all those arrested for murder were probationers and parolees—those who had been released from prison. Criminologists in 2009 had then used early machine-learning statistical techniques to predict which parolees would go on to commit homicide. They had only basic demographic and prior-crime data to work with then, and yet they were still able to correctly classify 43 percent as likely to be charged with homicide only two years after their release. Of course there was still the false-positive problem—those who were predicted to commit homicide but who did not. But a replication study with a longer follow-up period provided better results. By the 2020s, interdisciplinary neurocriminologists, statisticians, and social scientists improved the predictive power of this model by adding brain, genetic, and psychological risk factors into the equation. By the early 2030s they took it a step further by developing algorithms for violence in the community at large. Then, in 2034, the LOMBROSO program was put into place. It was a chance for a failing government to reverse its declining popularity in the polls.
Under LOMBROSO, all males in society aged 18 and over have to register at their local hospital for a quick brain scan and DNA testing. One simple finger prick for one drop of blood that takes 10 seconds. Then a five-minute brain scan for the "Fundamental Five Functions": First, a structural scan provides the brain's anatomy. Second, a functional scan shows resting brain activity. Third, enhanced diffusion-tensor imaging is taken to assess the integrity of the white-fiber system in the brain, assessing intricate brain connectivity. Fourth is a reading of the brain's neurochemistry that has been developed from magnetic resonance spectroscopy. Fifth and finally, the cellular functional scan assesses expression of 23,000 different genes at the cellular level. The computerization of all medical, school, psychological, census, and neighborhood data makes it easy to combine these traditional risk variables alongside the vast amount of DNA and brain data to form an all-encompassing biosocial data set.
All those convicted of homicide in the United States have been assessed on the Fundamental Five Functions. This was going on for research purposes well before the homicidal tipping point arrived. An equal number of non-criminals was drawn from the community as a comparison group. Fourth-generation machine-learning techniques looked for complex patterns of linear and nonlinear relationships between these predictor variables and the homicide-control grouping. One conceptual advance that was learned in the previous decade and that enhanced the accuracy of violence prediction was the critical importance of factoring in the interaction between social and biological variables. The samples of murderers and controls were randomly divided into three separate pools of data. The first pool of murderers and controls was used as a training set—allowing machine-learning techniques to "learn" how to predict homicide. The second pool of data was used to test out the prediction formula to see if it held water. After further refinement, the formula was tested and finalized on the third data set.
The result is not perfect prediction, but it is pretty darn good—good enough for an outraged society. Those tagged as LP-V (Lombroso Positive—Violence) as a group have a 79 percent chance of committing a serious violent offense within the next five years. Those classified as LP-S (Lombroso Positive—Sex) have an 82 percent chance of committing either rape or pedophilic offenses. Finally, those classified as LP-H (Lombroso Positive—Homicide) have a 51 percent chance of killing someone in the next five years. Some have dual designations.
The program works like this: those who test positive— the LPs—are held in indefinite detention. In light of the administrative lapse that originally sparked LOMBROSO when test results were mixed up, LPs are given the legal right to challenge the findings and be retested by an independent authority. The detention centers are highly secure, but are not the harsh holding bays of decades gone by.
Every LP is reassessed every year, as the changes brought about by the detention environment and treatment can bring about significant epigenetic change and hence a change in their LP status. Release is also possible, and long-term detention can be avoided. The LP-S group, for example, can elect to have surgical castration and will be set free immediately, although they have to continue to undergo mandatory weekly testosterone checks to ensure that they are not taking hormone-replacement therapy. Others, depending on their bio-profile, can also be placed on mandatory medication and tested at halfway houses. Most releases, however, are the result of the intensive treatment programs implemented in the LOMBROSO centers.
These are scientific interventions, deriving from the experimental criminology movement beginning in 1998 espousing practice based on randomized controlled trials. Society accepted that serious recidivistic crime was a clinical disorder when new biological treatments were shown to work. State-of-the-art biopsychosocial treatments are intensively explored for all LPs, but are tailored to their unique biosocial profile.
At first there were remonstrations over excessive government control and breach of civil liberties. But the government has been able to come up with scientific backing for the validity of its policy.
It's now 2039, and five years after the introduction of the LOMBROSO program. An independent analysis was conducted on the efficacy of the government's program. After years of gradual increases, the homicide rate has been cut nearly 25 percent. Similar reductions have been seen for rape, pedophilia, and serious crime. Government spending on health, education, and housing have increased, given the savings on the cost of crime that they shared with private investors. Civil libertarians are flabbergasted by the fact that a scheme they thought would be racially prejudicial actually resulted in a lower proportion of minorities being detained as LPs. The jury system of the 2010s was undoubtedly racially biased, with a black offender more likely to be convicted of the same crime as a white offender. LOMBROSO, in contrast, is scrupulously objective and data-driven, and the results have pleased civil libertarians and minority leaders alike. After all, it was known all along that minorities are disproportionately the victims of violence, and now they are disproportionately benefiting from violence reduction.
In 2040, the National Child Screening Program (NCSP) is announced. All children 10 years of age are given a comprehensive medical, psychological, social, and behavioral evaluation that incorporates all prior school, social, and medical-record data.
Under the new NCSP, parents of some 10-year-olds are informed that their child is a rotten apple. The NCSP determines that little Johnny has a 48 percent chance of developing into a serious violent offender in adulthood, and a 14 percent chance of committing homicide. That's the bad news.
The good news, however, is that the NCSP has developed residential treatment programs that should be successful in cutting these odds by more than half, to 18 percent for serious violence and 6 percent for homicide. It does, of course, mean that Johnny will have to be taken away for two years for intensive biosocial therapy, but after that he will be back home.
What would you decide if you were Johnny's mother or father? Put yourself in their situation. Do you want your child whisked off to an institution for treatment and branded as a potential future offender? What are you going to tell your relatives and friends and neighbors? Think of the stigma. What about Johnny losing his friends? And what bad new friends will he make in this residential program for criminals-in-the-making that might make real a self-fulfilling prophecy?
On the other hand … are you just going to stand by and do nothing? You know full well that Johnny has a very significant chance of ruining not just his own life, but your life, and the lives of innocent victims. These are lives you could save if you only act. On balance, the majority of parents give up their children for residential treatment.
In 2042 there is a controversial change to the NCSP initiative after two 11-year-old schoolchildren coldheartedly tortured and killed a three-year-old child, having abducted him from a shopping mall while his mother was distracted. The act was caught on the global CCTV network. It turned out that both of the killers had been identified by the NCSP the previous year as being in dire need of residential treatment, but their respective parents had elected to decline intervention. Analysts argued that children in the red zone likely have parents who do not have the best interests of their children at heart. They are not responsible parents and not good decision-makers—reasons their child is in the red zone in the first place. NCSP officials now need to act "in loco parentis"—to step into the parents' shoes and make the decision. The treatment now becomes compulsory.
It's now 2049 and the 15th anniversary of the LOMBROSO program. The nation is nine years into the NCSP. Together these programs are undeniably making a dent in the rates of juvenile and adult violence. They have also significantly reduced nonviolent crime. An avant-garde cadre of research analysts and neurocriminologists propose a controversial program that is outvoted by other advisors. But a minority report is written and submitted alongside the majority vote for senior government officials to consider. Following in the traditions of LOMBROSO and NCSP initiatives, the minority report proposes to stop crime before it starts. But this time it proposes that citizens get a license before they even have a child. After a very long and heated debate, there is a small majority vote in favor, and the policy becomes law.
The train of thinking in the minority report goes something like this: Poor parenting has undeniably been linked to later violence. Genetic studies documented not just that antisocial parents transmit their bad genes to their children, but that the negative social experience of having a bad parent is also a causal factor for antisocial behavior. The issue is not to use eugenics as a final solution to crime, advocates argue, but to create a social policy to promote positive behavior. Better parents, better children. The minority report's perspective focuses on children's rights—minors need to be protected and better treated, and would-be parents need to be responsible. They must report in for licensing.
Cars can be killers, and so you need a license before you can drive. Kids can be killers too. So the logic goes that you should also have a license before you can have a child. Just as you need to document practical skills in driving a car and also knowledge of the right way to drive, you also need to show theoretical and practical proficiency in rearing a child. It's only right for the child and society.
Civil-rights activists remonstrate loudly against the minority report, claiming it is taking away a fundamental human right. In response, the government adds the caveat of compulsory classes in parenting skills in all schools. Now everyone has the potential to pass the licensing exam, they say. No child left behind. No more excuses.
Classes are structured to be age-appropriate and to start at a relatively early age. They teach children everything from the basics of reproduction to prenatal nutrition, stress reduction, the early needs of a developing baby, providing structure and support for the growing child, negotiation skills with teenagers, what psychological problems teenagers have, and how to help them. The broader context is on becoming a responsible citizen, with the curriculum covering knowledge-acquisition, social skills, decision-making, and emotion regulation.
Some parents are opposed, but what wins the day is that kids actually enjoy the one-hour Friday afternoon class far more than Monday morning's matrix algebra.
Some teenagers never knew that vigorously shaking a baby when it cries cuts the white fibers connecting the prefrontal cortex with the limbic system. They did not know that babies have to be fed in the middle of the night. They never knew the long-term financial cost of having to bring up a kid. They not only learn about how to be a better parent, but they also learn social skills that help them manage their current relationships with their parents, boyfriends, and girlfriends, as well as academic skills on human development, brain development, and behavioral control.
Yet the licensing program still has significant opposition from human-rights advocates. Civil-liberty advocates remonstrate that the government is taking away the right to have children and essentially criminalizing pregnancy. The government's retort is that any woman can become pregnant—she just has to pass the licensing exam before she gives birth. To make it enforceable, there have to be sanctions for illegal parenting—just as there are sanctions for dangerous driving. If she is unlicensed, a mother caught with a baby has her child taken away into a foster home but is also offered a crash course on parenting and the opportunity to take the examination. If she passes, her baby will be returned—although there are inevitably yearly follow-ups on her parental skills, given her documented lack of responsibility and law-breaking behavior. DNA banks also allow the biological fathers to be tracked and sanctioned if they are not licensed. In 2050 the Parental License Act is passed.
In the first few years, parenting skills go up and unwanted pregnancies go down. Juvenile delinquency declines too, as adolescents achieve a greater sense of responsibility, empathy, and agency alongside slightly improved relationships with their parents. There are long-term reductions in child abuse and later adult violence as teenagers grow up to be more responsible parents. The result is a new generation of children more cared for and loved by their parents. It is a winner with the public, and the government continues to win its war on violence—and its battle with the opinion polls.
Let's now step back from Big Brother and the impending glare—or glitter—of these hypothetical programs. Consider two quite different questions on the three future programs I have outlined. Could they happen? Should they happen?
LOMBROSO could certainly come about in practice in 20 years, or something quite like it. Let's face it, elements are already in place right now. The prison at Guantánamo Bay is just one example of how indefinite detention is being used by countries throughout the world in the name of national security. Indefinite imprisonment for dangerous criminal offenders—or "preventive detention," as it is neatly packaged—is common in many countries.
"It sends shivers down my spine to think I could be convicted without committing a crime."
You also know that all it takes is one tinderbox crime to set off a new law to protect society. That happened with Megan's Law, which required the public registration of sex offenders after the rape and murder of seven-year-old Megan Kanka in 1994 by a man with prior convictions for sexual assaults against young girls. Physical castration is offered right now in Germany and some other countries as a treatment option for sex offenders—we don't have to wait two decades for that to happen.
As for parental licensing, this has been debated in both the popular press and the academic press for some years. Articles point out that poor parenting is a well-replicated risk factor for adult violence. Indeed, some governments have already acted to do something about it.
Politicians will continue to overreact to isolated tragic events in order to quell the public outcry and try to solve society's problems. With more water under the bridge, scientific advances in knowledge, and a much broader, multidisciplinary perspective to crime causation that incorporates neurocriminology, the ability to predict—and preemptively act—will, I believe, become more probable, not just possible. These things can happen. You can debate that particular conclusion later, but right now let's move to a more poignant point—do you want programs like LOMBROSO?
That's a question for all of us to consider. It sends shivers down my spine to think I could be convicted without committing a crime. It would send shivers down your spine too if you had a brain scan like mine that looks like a serial killer's, together with low resting heart rate, birth complications, minor physical anomalies, early vitamin B deficiency, and a past that included bootlegging and gambling by the age of 11. But let's hear all sides on the neuroethical issues surrounding neurocriminological research, and where we may or may not be taken to in the future.
Of course there are civil-liberties issues in detaining people before they have committed a crime. But as I alluded to earlier, are there not civil-liberty issues involved in not doing anything when you know someone has a 79 percent chance of committing a serious violent act—and you can do something to stop that happening? Yes, some people will be detained who may not pose a risk—yet the harsh reality of daily life is that we have to balance risks with benefits.
On the early identification of potentially dangerous children there is no question that there are important neuroethical issues that have to be recognized. At the same time, both the public and scientists alike have an honest and growing interest in what to make of the anatomy of violence.
On parental licensing, is it really a moral right to have a child or not? Should it instead be considered a privilege that needs to be earned? Even today we take away parental rights. Parents who lack the capacity for care and nurturing, and instead hurt their child, lose their paternal rights. Their child is taken away from them into care. It's not too far a leap to go one step further by conducting preventive intervention to preclude harm to the child occurring in the first place.
You may reasonably remonstrate against licensing. I did when I first encountered the idea. It just did not feel right to me for reasons I could not entirely put my finger on. Yet consider adoption. Not everyone is automatically assumed to be a good enough parent to look after a child. Potential parents are scrutinized very carefully by the state on background and financial circumstances to ensure that the child will enter a loving and stable home. Because of that competency screening, the rate of child abuse in adoptive homes has been argued to be less than half of that for children reared by their biological parents. We ensure standards for unwanted children—so why not apply such screening to us all to help every child in society and cut child abuse?
The question comes down to where exactly in the shifting sands of sensible reasoning you are willing to judiciously draw the line that delineates the protection of society on one side and the invasion of civil liberties on the other. The overall risks weighed against the overall benefits. The difference between right and wrong—between life and death. Between acceptance of the neurocriminological knowledge we are rapidly gaining—and the social concerns we all have over equity, ethics, and liberty.
Far too often the slippery slope argument is presented at the end of a discussion. Well, there's a slippery slope, so let's play it safe and tread no further. That's a cop-out, and when it comes to the active suppression of new knowledge or the ignorance of silence, it generally stems from the desire of certain groups to maintain the status quo. It turns out that most slopes aren't so slippery after all if we care to confront our fears and cautiously weigh the risks and benefits of action. There is firm ground underfoot and ample opportunities up and down that slope to choose where we stand—if we have the courage to do so.
An open and honest dialogue on the issues raised here will prepare the public for future developments—whatever they may be—and help facilitate future success in violence prevention.
---
Excerpted from The Anatomy of Violence by Adrian Raine. Copyright © 2013 by Adrian Raine. Excerpted by permission of Pantheon, a division of Random House LLC. All rights reserved. No part of this excerpt may be reproduced or reprinted without permission in writing from the publisher.