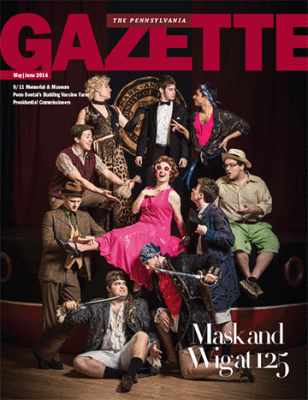 Room For More?
Sharing a vast spectrum of reactions, 20 young alumnae known as "Girdles" joined in a lively conversation sparked by the recent Gazette article commending Mask and Wig on its 125th year ["Still Kicking," May|June]. These graduates of Bloomers—Penn's "successful all-female sketch comedy group"—are collectively cited in the article for allowing Wig to maintain the title of the "oldest all-male collegiate musical comedy troupe in the United States." (Sorry for all the annoying "clamoring"!)
These women were unsure if they should feel congratulatory or conflicted by this celebration. Tradition is the stuff of the Ivy League, but are we ignoring sexism by accepting and taking pride in this "unique" separatism?
If tradition were broken—for both groups—by merging, would that be just? Or just silly?
In tandem with a coincidentally timed Gazette article from the same issue, "Penn Feminists Look Back, and Beyond" ["Gazetteer," May|June], these friends wondered if this disparate, gendered dynamic is perpetuating misogyny, chauvinism … or humor? What are "debutantes"-cum-"fourth-wave feminists" to think?
After all, things have changed since the lyrics were penned to "There's Only Room for One." With these two performing-arts groups so often compared today, has the boastful connotation of this song remained the same (Penn pride!) or shifted (Man pride!)? Or is Penn running out of student housing? (Yikes!)
We want to ensure that future Bloomers and Wiggers—and all comedians at Penn—thrive. So from the sidelines we urge current students: collaborate! Be critical of your own standards and reach across the bathroom stall! Apart from your annual shows, find worthwhile opportunities to write, perform, and socialize together. You may be each other's producers, editors, or agents one day. You might even be each other's best friends! (Who has the patience for unfunny company anyway, sheesh!)
In the spirit of laughter, community, and important discourse, here's to you with a toast for two… hundred more years of comedy at Penn!
A few Girdles from the Classes of 2004-2012
  

Thanks to all who wrote in identifying the Mask & Wig "couple" on the cover of the May 1944

Gazette

reproduced in the

May|June "Window."

They are Lawrence C. Harris W'47, doing the cross-dressing honors, and, in the straw hat, John W. McWilliams Jr. W'46. Harris was a member of the V-12 Navy College Training Program, and McWilliams was in the Naval ROTC.

—Ed.
No Room for Boland?
Great Mask and Wig article. But you didn't mention Dr. Clay Boland D'26, who wrote the music, lyrics, and book for several shows and pretty much took full charge of the two I was in (1946 and 1947). And you didn't note that Variety used to review the shows for national reading.
By coincidence, this issue has an obit for Danny Congdon W'48, who was my roommate on the M&W train and who had a speaking part in the show: "Sir, the guards are revolting!" And of course the King's reply was "Yes, aren't they …"
Bill Breeden W'47 Salem, OR
Once, No Room for Jews
Your article about the Mask and Wig club was very enlightening. However, the writer seems to have overlooked some interesting information in its history. For many years the club did not allow anyone to join but Christians, even if they were instrumental in putting on the show as freshman "heelers." Among the people so rejected were Ray Evans and Jay Livingston, two of Penn's most famous alumni songwriters.
Although the club now admits Jews, I am curious to know, does the club now admit African-Americans, Asians, and Hispanics?
Daniel Nussbaum II C'63 Rochester, New York
This type of discrimination, which could involve complete exclusion or quotas, was unfortunately common on campus in decades past, and Mask and Wig shared in it. With regard to Evans C'37 and Livingston W'36, whose works include the Oscar-winning "Buttons and Bows" and the Christmas standard, "Silver Bells," a June 1988 Gazette article on them includes the following passage:
"Both say that, despite a genuine sense of nostalgia for Penn, they remember unhappy times here as well. The reason: the climate of anti-Semitism that existed at Penn in the Thirties. (Both are Jewish.)
"For my 50th reunion last year, they sent us a letter asking, 'what are your memories'?" Livingston reveals. "I wrote back and said, "You want to know exactly what it was like? If you weren't gentile, you were a second-class citizen."
Incidentally, the songwriting duo were photographed in the Mask and Wig clubhouse for that article, with the accompanying text, "Ray Evans and Jay Livingston, who have made a career out of writing music for films, find their place in the Mask and Wig Clubhouse."
These days the club is open to all—well, all men—regardless of race, ethnicity, religion, or sexual orientation (see below).—Ed.
Social Changes Neglected
Having majored in Mask and Wig in the mid-1960s, I read Dave Zeitlin's article with nostalgia and pleasure for the club's milestone anniversary. But as I read about the changes (big venues to small, train travel to plane travel), I looked for more significant changes. From the article one might think The Club is still stuck in its late-19th-century social exclusivity.
Knowing of my interest in music and theater, my father (W'38) and uncle (W'43) cautioned me that Mask and Wig didn't want Jewish boys. But things had changed, and it seemed religion was no longer a barrier. I sang, danced, and wrote songs for three shows, then continued my interest as a graduate member. In the mid-70s, I was on the board of directors when a cover story in the Sunday Inquirer Magazine mentioned my participation in Philadelphia's fledgling gay rights movement. The club's chairman asked me to resign immediately. I declined, finished my term and then resigned, questioning my years of loving this quirky, wonderful troupe.
I'd still like to know how Mask and Wig has dealt with these challenges and to what degree change has come. Are gay club-members now allowed to be openly gay? Are non-white undergraduates and graduates welcomed as members? Ten years ago, some 30 years after my resignation, I bought a ticket to a show and slipped into my seat. The show was charming and funny and the audience responded with laughs and cheers. Afterwards, I communed with my beer stein and 
goofy caricature, still on the wall of the Grille Room. Happy memories of my years as a Wigger returned.

Tom Wilson Weinberg C'66 Philadelphia
An Alumnus Designed 9/11 Museum
We enjoyed reading about Joe Daniels and his many contributions to the 9/11 Memorial and Museum ["The Privilege of a Lifetime," May|June 2014] as the president and CEO of the National September 11 Memorial & Museum at the World Trade Center Foundation, Inc. It may interest the readership to know that another Penn alumnus has spent the last 10 years working on this important project.
My partner at the design firm Davis Brody Bond, Steven M. Davis GAr'85, is the designer of the 9/11 Memorial Museum. He worked closely with Joe Daniels and his staff since December 2004. We are obviously very proud.
Christopher K. Grabé GAr'78 New York
Another Band Fan
I can echo Dan Rottenberg's homage to the Penn Marching Band ["Alumni Voices," May|June]. My late husband, Daniel B. Gesensway C'54 played the flute and piccolo in the band (1950-1954), and everyone in the stands cheered during the stirring piccolo solo that comes in the middle of "The Stars and Stripes Forever."
Like Dan Rottenberg's mother, I, too, a violinist, met my husband when we were undergraduates at Penn through our love of music.
Eleanor Horowitz Gesensway Ed'57 G'58 Philadelphia
Lovely Memory, But Faulty on Facts
I read Dan Blas's essay, "Tuning In" ["Notes from the Undergrad," May|June], with interest because my father and I also bonded over Yankee games when I was a child, although we watched on television (unless we were in the car).
However, Mike Mussina's almost-perfect game took place on September 2, 2001, and while it had indeed been "years" since the Yankees' last perfect game, it had only been a little over two years. David Cone recorded a perfect game on July 18, 1999, a little over a year after David Wells recorded one on May 17, 1998.
Although Mr. Blas may not have been anointed as a Yankee fan by his mother during the previous two perfect games, as a nine-year-old in 2001, he was alive for both. Like his mother, I remember where I was for both of them, and Mussina's close call.
Considering that a Yankee pitcher has only recorded a perfect game three times in their entire history (Don Larsen in the World Series way back in 1956 is the third), the couple of years between Cone's game and Mussina's effort wasn't really a long wait. We are still waiting as I write this letter. Hopefully, a Yankee will throw one someday soon—maybe even before the next Gazette goes to print.
Adam Stone L'99 Philadelphia
Cover-to-Cover Quality
The May|June Gazette prompted me to affirm Stanton Peele's comments in that issue's "Letters" regarding the quality of the magazine's contents. The Blas, Rottenberg, Zeitlin, Marmon, and Popp articles all commanded attention in their own way. There was certainly something for every readership taste. You have set a high journalistic standard, and I look forward to future issues which require cover-to-cover reading as did this one.
M. P. Sawczuk GrEd'90 Nanticoke, Pa.
CA History Shortchanged
It is a distressing sign of bias when the history of the building formerly owned by the Christian Association at 3601 Locust Walk, now known as the ARCH, is reduced to the "charms of whole-wheat pizza from the basement cafeteria" and "a meal at the Gold standard or Palladium restaurants, or a spot at the bar in the latter," as it was in the article "ARCH Reopens" ["Gazetteer," Mar|Apr].
It had far more significance than good pizza and beer. Privately built, it served for 71 years as a Christian student center to prepare Penn graduates to live the social gospel and apply their faith to the changing social realities of each generation.
If the walls of the newly restored auditorium of that grand building could talk they would tell the stories of being the only neutral and safe place that was off limits from uptight white administrators in the turbulent '60s where African American students could audaciously organize a Black Student League and where anti-war protestors could organize against the Vietnam War. During the '80s, when movie theaters were sparse, the auditorium was where one could watch movies, receive a handout with thought-provoking discussion questions, and then stay to dissect the spirituality of the film with others. Then later in the '90s it was where key liberation theologians spoke to a broad audience of progressive community members.
But besides hosting political activism and spiritual discussions, the building was one of the only places that was off-limits from the prying eyes of the in loco parentis administration when there was gender segregation in the classrooms. So dances and other social events, not only opened the eyes to spiritual relevance, but indeed opened other eyes that fostered romance resulting in a significant number of marriages.
The small offices along the building's periphery, many of which are preserved in this new renovation, housed Christian clergy staff who supported and pastored Penn soldiers–either enlisting or returning from World War II—and provided pastoral counseling to conscientious objectors during both WWII and later, the Iraq War. These pastors connected Penn students to the wider global movement and regional work of their peers throughout the world in the World Student Christian Federation.
Those rooms housed administrators for a summertime employment opportunity at Green Lane camp that exposed students, usually for the first time, to inner-city kids who came first from the Irish and Italian ghettos and then later were African Americans. This experience changed the lives not only of the students but the children, including one little boy named Bill Cosby.
Those office spaces in the late '80s birthed and housed the University City Hospitality Coalition that still provides free daily meals locally for the homeless, while in the late nights one could overhear phone conversations of volunteers who staffed the first hotline in the Delaware Valley for the sexual-minority communities.
The leaders of the women's movement found a welcome home among feminist clergy and, while the culture wars heated up in the '90s those walls overheard astonishing conversations between straight evangelical Christians and lesbian and gay Christians who shared their common and yet different spiritual and sexual journeys.
In the basement, besides that well-remembered whole-wheat pizza, Table Talks were held where Penn students grappled with biblical passages and the realities of war, and interfaith dialogue and ecumenical relationships.
The building at 36th and Locust stands as a symbol of what happens when people of faith open their hearts and their intellect to consider the age-old questions of meaning, purpose, and then seek to learn to work together to build a better world. The result is opened eyes and changed lives. Pizza and beer can't begin to do that.
Beverly Dale, General Minister and President of the christian association (1989-2010)
Philadelphia
A relatively short article focused on building renovations was not the place to recount the obviously very rich history of the space over the decades when it was owned by the Christian Association. However, it was a mistake to imply that that history does not exist by including the casual references to whole-wheat pizza and former restaurants on the site.—Ed.
Advice for the New AD:  Cut Football
The retirement of Steve Bilsky W'71 ["Gazetteer" Jan|Feb] and announced appointment of M. Grace Calhoun to succeed him as Penn's athletic director ["Gazetteer," May|June] presents an opportunity for change.
I strongly suggest that the new director, and related departments, take an objective review of the need for athletic pursuits that induce repetitive head trauma. The case of Owen Thomas W'11, the captain of the Penn football team, whose chronic traumatic encephalopathy (CTE) seems to have been a significant factor in his suicide in 2010 ["Gazetteer," Nov|Dec 2010], could be a prescient warning of things to come, as the recent groundswell of research and coverage of the detrimental effects of repetitive blows to the head rumbles through our media and collective consciousness.
Does Penn need the liabilities of a football program that appears to be on the decline anyway? Unlike many other universities, I believe the strength of our academic prowess and loyal alumni can more than compensate for whatever giving initiatives might be impacted. Yes, such a decision could have systemic impacts on the evolution of college athletics and I would be profusely proud(er) of my alma mater should Penn choose to be a leader in what could be a natural progression of events. The vision of the University, and its founder, focuses on generating and applying knowledge to produce future leaders. I can't think of a better application of our vision than applying it to ourselves.
Lawler Kang WG'96 Manchester-by-the-Sea, MA
"Coffee Table Cred" Lacking?
I have before me editions of "my" alumni magazines: The Pennsylvania Gazette, London School of Economics Record, and Cambridge CAM. The Gazette historically has been the leader. Indeed, years ago I personally delivered copies of the Gazette to the other two alumni magazines' offices as a model to emulate. They had a lot to learn and learn they did. They have developed into top-notch publications, though the Gazette has twice the page count of the other two.
But a glaring Gazette deficiency strikes me. Let's call it "coffee table cred." The Gazette cover has that name in big letters and The Pennsylvania in small letters at the top. For those coffee tables in Philly, the East Coast, or even the wider US, maybe that's enough (though I doubt it). But, hey, my coffee table is in Sydney (yes, Australia). How can I use the Gazette to get exposure for real Penn without any outward identification on the cover? I'm so mournful that I'd even welcome a Penn-Penn State debate.
LSE Connect has the recognizable white LSE on a big red block. Cambridge CAM has a more discreet, but easily recognizable University of Cambridge with university coat of arms in the upper left corner.
So let's recognize that Penn has a reach outside Philadelphia. Yes, we're proud of the lineage to Ben Franklin's Gazette, but that means nothing to the blokes down here. And Pennsylvania means nothing, too, other than the name of a US state. By outward appearance, the Gazette could be mistaken for a state promotional magazine for business or tourism.
Contrast that with Penn's long-standing and growing worldwide draw. Wharton and other professional schools as well as grad schools have attracted top worldwide students for years: did you know that a Penn Law grad was a justice on the High Court of Australia (equaling the number on the US Supreme Court)?
So, help my coffee table by adding a recognizable name for Penn to the Gazette's cover (Penn or University of Pennsylvania; not Pennsylvania alone). The Penn shield and "Founded in 1740" would help, too. So would "A member of the Ivy League," especially overseas, but that's too much to ask.
Bob Talbot-Stern W'64 L'67 Sydney