Holding out Hope
When Kevin first regained his ability to eat solid food, he didn't want anyone in the room to see him being fed. Now, while talking to a visitor, he gladly inhales the yogurt that's being spoon-fed to him by his nurse, Ivo. He even dishes some friendly banter right back to him.
"You mix it up, my friend," Kevin says when Ivo fails to properly bring the fruit to the top of the cup.
"I'm African!" Ivo shoots back. "We don't eat this stuff!"
"You should. It's protein!"
Kevin turns his attention to the Phillies game on his Samsung high-definition TV, with a smile on his face. "A good nurse," he says to nobody in particular. "He just needs to work on his yogurt mixing."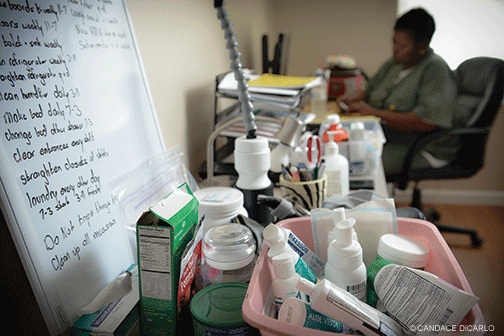 "He's not going to let this stop him from being him," Darian says. "That's one of the things that's very heartening to see. He's still going to be Kevin."
---
Getting used to being fed has probably turned out to be one of the easiest parts of his recovery. Losing the privacy of bathing has been far more difficult—taking a shower can sometimes be a three-man job—and getting turned every two hours at night has also had lingering effects. On the day he chides his nurse about the yogurt and watches the Phillies play an afternoon game, he got less than two hours of sleep the night before. Sometimes, he even dreams about having a bad night of sleep.
"That's my biggest challenge right now: my sleep issue," he says. "People say you toss and turn. For me, I can't toss and turn."
Given those early touch-and-go days at the hospital, the fact that he calls not sleeping as much as he'd like his "biggest challenge right now" can certainly be viewed as a promising development. More than anything else, it's a sign that his condition has mostly stabilized. The hardest part of being a quadriplegic is what his father calls "the gradual acceptance of the situation you're in." Or, as his older brother puts it, "The reality and finality of it all is settling in."
But Kevin has shown that his new reality can still be a pretty good one, all things considered. There have been many fun benefits and lively fundraisers for him. His 30th birthday party was held at Citizens Bank Park, the home of his beloved Phillies. He went to a Philadelphia 76ers game and talked with retired NBA star Dominique Wilkins. And in the next few months, he hopes to plan more events at Philly restaurants and bars. He'll even be in the wedding party of one of his best friends from Penn, Joel Newman C'04.
"He's not going to let this stop him from being him," Darian says. "That's one of the things that's very heartening to see. He's still going to be Kevin."
Thanks to an operation in March that allowed Kevin to switch from the ventilator to the less-intrusive pacer, he can now be transported more comfortably—which his father said has "made a world of difference." It's also helped him breathe and talk easier when friends and family come to visit him (although he still gets tired). Admittedly, there have been fewer visitors than there were in the months immediately following his injury, but those who still come regularly are often amazed at how normal Kevin tries to be, like nothing ever happened. He watches Will Ferrell movies and listens to the new Justin Timberlake album. He still communicates with friends by text messaging (someone else needs to type for him, of course) and gets "GQ'd up," according to his dad, when girls come over. He even tries to reassure friends when he can see they're stressed.
"Kevin was always a very calming personality," Tom says. "And he hasn't changed at all in that regard. His personality has stayed exactly the same."
"That part of Kevin where he wants to take care of other people, that still comes out without fail," adds Chris. "Even when he's tired, which happens sometimes, he talks to people and engages with everyone. He really loves having people come by."
There are other things Kevin wants, too. He hopes to be able to rejoin the workforce and is trying to master voice recognition software to that end. Before getting shot, he began a recruiting company called Avenue 215, but he now hopes to pursue a different field, perhaps in athletics. "Obviously I can't play them," he says with a smile. "I never could anyway." On top of those career aspirations, he also hopes to perhaps start a Penn scholarship for people with spinal cord injuries and possibly return to Magee as a peer mentor.
"I really think he's capable of a lot of really great things," Tom says. "He just needs to do it at a difference pace than most of us, unfortunately."
"He's got his mouth and he's got his brain," Joseph adds, "so Kevin will do all right."
Kevin has one more hope, tucked deeper away. He doesn't talk about it as much because it might seem foolish to some. But he often thinks about one day being able to walk again. He dreams about a medical miracle.
"You've got to hold out hope," he says. "I used to always think that hope is not a plan. It was one of those lines I took from one of my jobs. Now hope is kind of one of my plans. I have to live every day like that. There have got to be people working on it. There are tons of studies out there. Someone will find a way to graft this together and do x plus y and make it z. I need it. It's frustrating to wake up every day like this."
He pauses. His words are becoming more of a whisper now. But he pushes on, just as he's done every day during his long and grueling recovery.
"Hope is part of my plan every day," he finishes as his eyes begin to close and his voice fades off.
---
Dave Zeitlin C'03 is a frequent Gazette contributor. Contributions on behalf of Kevin Neary may be made to the Kevin Neary Trust, Box 1824, Upper Chichester, PA 19061 or at kevinneary.com/kevin-neary-trust.