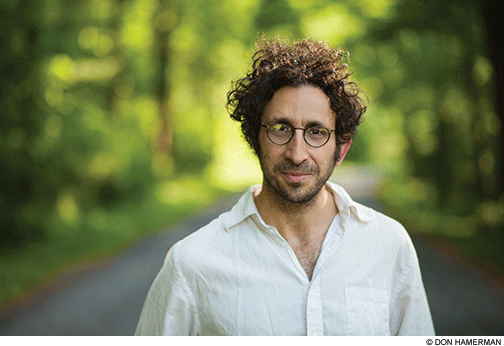 Glen Berger C'89 describes working on the Spider-Man musical as a "profound examination of the nature of collaboration." His book about the process is scheduled for publication this November.
---
Berger could almost be a comic-book character himself, with a squeaky voice and Einstein-wild hair. Perhaps alone in the theatrical world (except for Taymor), he did not consider himself an unlikely candidate for writing the Spider-Man musical. He says that his initial thought, on being asked to take on the project, was, "Well, it's about time!"
From the age of five, "I had this inflated sense of myself," he jokes (maybe). "I was feeling then, and for years, like, 'Why wasn't I getting the absolutely tremendous gigs!'"
After all, he'd been writing plays for a very long time. There was the one he wrote in the third grade about the Continental Congress ("That was epic"), and the comedy sketches he created and performed in high school in northern Virginia, where he grew up with "a typical suburban lifestyle, I suppose."
He joined Mask and Wig his freshman year at Penn, receiving a "real education in sketch comedy," he says. "It was ridiculous. [Mask and Wig] was peopled with just crazy people. I think they were mad! And, you know, I was this young, callow freshman, and they were these older guys who in their own kind of warped way did act as mentors." He wrote and performed with Mask and Wig for all four years at Penn. One of his favorite pieces was about a guy who did impressions of vegetables, which still breaks him up. "Yeah, he was a terrible impressionist," he says, between bouts of laughter.
He was pre-med at Penn—for all of one month. After that he switched to English, including taking playwriting classes with the late Romulus Linney, a playwright and fiction writer (and the father of actress Laura Linney) who was on the faculty from 1982 to 1995.
Dan Fields C'88, a friend of Berger's since Penn who is now executive creative director at Walt Disney Imagineering Creative Entertainment, remembers him in Linney's class. "I really got to know his true desires, sort of the depths that he wanted to write at" then, he says.
Fields moved to Seattle after graduation, and a year later Berger followed him there. Along with classmates Wier Harman C'89 (now the executive director of Town Hall Seattle) and playwright Suzanne Maynard Miller C'89, they worked in the 99-seat Annex Theatre, run by Penn and Yale alumni who wanted to produce fresh art. Seattle in the early 1990s was an up-and-coming city—"My parents would call me and say, 'When you come back and visit, will you bring me some Starbucks coffee?'" Berger remembers. The group of aspiring writers, actors, and directors at the Annex—all volunteers—worked non-stop to produce new shows every month. "It's sort of exactly what you're wanting at that time, which is to generate a lot of work," says Berger. "And it's raw and sloppy and inspired and terrible."
"I can't tell you how many nights we stayed up all night literally tearing our hair out, arguing about the creation of the structure of the play," Fields adds.
"In Seattle, I found what you could say is a voice," Berger sums up his experience with the Annex. After completing three full-length plays and five one-acts there, he decided to try out that voice in New York.
In 1997 he finished a full-length play called Great Men of Science, Nos. 21 & 22 which was "light years beyond what I had written up to that point," he says. "It was just an entirely different and, you know, more mature way of writing, one that really was not just a representation of my soul but had plot points you could follow." Circle X Theatre in Los Angeles picked it up, a huge triumph for Berger because "literary managers at regional theatres talk to other literary managers," and that led to other commissions.
Over the next decade Berger's works—ranging from The Wooden Breeks, a performance about burying people alive, to A Night in the Old Marketplace, a musical adaptation of a 1907 Yiddish play written by I.L. Peretz—were staged across the country. He was also hired by WGBH, Boston's public-television station, to write episodes of the animated shows Arthur, Curious George, and Fetch, for which he was nominated for a total of 12 Emmy Awards and won two of them. "It is a daytime Emmy," Berger says. "But it looks exactly like all the other Emmys."
It was his play Underneath the Lintel, a one-man show about a Dutch librarian who becomes obsessed with finding the owner of a book returned more than a century after the due date—which ran for 450 performances in New York before premiering all over the world—that attracted the attention of Julie Taymor.
"It was no surprise to me that Julie gravitated to Glen and wanted to hold him close as a collaborator and a colleague and a confidant, because he's a unique person, and his writing is unique, and she's a unique person, and her visuals are unique," says Fields, who before joining Disney worked with Taymor on the original The Lion King on Broadway. "Only someone like Julie, honestly, would take the chance on someone who was as offbeat—and, in that realm, unproven—as Glen. He had a lot of success around the country for his quirky, small plays, but no one was imagining he was going to write the next Broadway musical."