By the summer, the proposal with the concrete Room seemed to be moving full speed ahead. But after Kahn's presentation on July 31, Edward Logue, head of the New York State Urban Development Corporation, fired a torpedo into the memorial's concrete prow.
"Basically the [Roosevelt] family, and Logue in particular, made the decision that it had to be stone," explains Whitaker. "In the end, the client just didn't believe that concrete was an appropriate material for a memorial." Kahn tried to persuade them otherwise, suggesting that Logue go to the Salk Institute and see how that looked. Logue was unswayed. Even though he and the Roosevelt family liked certain aspects of the Room, including the cantilevers and the baldacchinos (a sort of canopy), "they just didn't want it in concrete," says Whitaker. "They wanted it in stone."
Of course, for Kahn it wasn't a matter of simply scratching out the word concrete and substituting stone. For one thing, some key design elements, such as the cantilevers, could not be structurally supported using stone. More to the point, Kahn—who according to Whitaker "had really never built in monumental stone before"—had to know it, to learn the textures and soul of this medium. He settled on granite, specifically wire-sawn granite from any of three quarries he had selected—one of which, in Mount Airy, North Carolina, would be used.
The new plans went through a number of changes, some of them profound.
In August, for example, Kahn wrote a warm letter to Harriet and 10-year-old Nathaniel (vacationing in Maine) that included a tiny, detailed sketch for the memorial with a stone Room, complete with columns. On the same page is an equally tiny sketch of the Garden, which still included the House underneath it, along with notes about the "green lawn" and the "rising path flanked by trees on either side."
But he soon became uncomfortable with much of the Garden, and started over—eventually taking a belt sander to a wooden model he had built and scouring away so much of the landscaping that it ended up looking like some kind of minimalist African mask.
"Lou literally cut away the model," says Nathaniel. "And everybody freaked out about it. Certainly it freaked out my mother, because the Garden really was literally eviscerated. The center was scooped out of it. There were still trees, but you weren't walking under them anymore. It was a devastation, the way he tore away at the Garden."
It's fair to say that Pattison was not thrilled with that development.
"I hated it," she says. "He made a little drawing for me, and when I saw it, I just felt, Oh, no. It was like a mausoleum. I described it as funereal because [there] was just one slot, one way, one movement. There was no variety. Everything was X'd out. The landscape was gone. You were completely enclosed, right down to the end."
Given the direction it was heading, she was relieved to get away from Four Freedoms Park and move on to something else—in this case, the Abbasabad project in Tehran that Kahn's office was developing.
But what the client taketh away, the client also giveth. On November 20, explains Whitaker, "the clients read him the riot act, saying, 'We don't like the Garden at all. We think the Room works really well, but we want you to go back to that [previous] scheme for the Garden.' So Harriet's the one who goes back and makes the bridge between that early scheme, where they had been, and ultimately where they were going."
"I was really elated," says Pattison convincingly. "I was called back. Lou had 10 days to come up with something, to restore it. At that point, of course, the House had been eliminated. They also wanted to lower the mount somewhat and had a series of steps over the lawn. I brought back the trees, number one, and really bushed it up."
She also brought Kahn a photograph of Le Nôtre's hundred stairs at Versailles. "It goes up to the clouds," she says. "That of course harkened back to his Beaux Arts [training], so he created a grand staircase, with the excitement of going up the stairs, not knowing what you're going to see beyond."
Careful study of multiple drawings by Kahn and Pattison convinced Whitaker of her key role in the development of this last plan. "I suddenly figured out these are Harriet's drawings that show the shift in that November/December model," says Whitaker. "Harriet's the one who's throwing down the first ideas and making the shift. So who does Lou turn to when he has to redesign the Garden? Harriet. Is it exactly what Kahn decided? No. Kahn made some differences. But the stairs—the kind of grand set of steps? That's sketches Harriet made."
She had another idea that should not be forgotten: a canal, separating the park from the ruins just to the north.
"I thought, 'Hmm, why not bring in the water, and then have bridges which would control the entrance, and have a series of steps here so that you could go under the bridges?'" she recalls. "You could arrive by boat, which I think would be very exciting, and make these two bridges the entrance. Because we had not resolved the entrance at that point."
The Room was still evolving as well. Nathaniel Kahn has a vivid memory of being at his father's office at 1501 Walnut Street one autumn night when both his parents were working intently on the project.
"I remember Lou working on and thinking about the Room," he says. "There was a [wooden] model, and the wall was divided into two, and it had a slit. At one point it was at an angle to let sun in at certain times of the year, and other times it was straight. And he was pulling the wall apart and putting it back together. And he asked me, 'How far apart do you think it should be?'"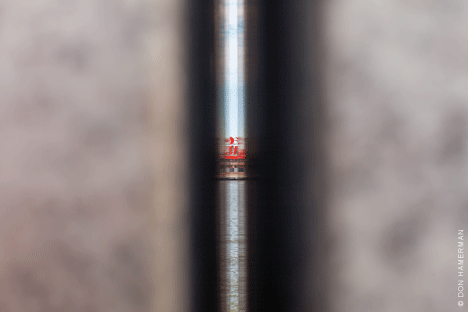 "Consider the momentous event in architecture when the wall parted and the column became."
---
Nathaniel, who only turned 11 that November, was thrilled to be asked. "But more than expecting the right answer from me, it's sort of a window into the way that he thought about things and the way he worked," he says. "He liked to talk as he worked. And it didn't matter whether you were young or old or an architect or not. He wasn't necessarily interested in your solution, but he was interested in what a conversation with you might bring out for him."
The memory has the quality of a fairy tale, he says: "The wise old philosopher king wants to know what the right move is, and who does he choose but a little boy to ask a question of. Somehow, in engaging the little boy, he comes up with some ideas. And by the time I have that specific memory from working on the Room, it had already become very close to what it is today."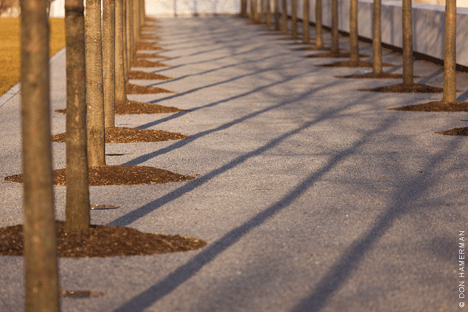 Sunday, March 17, 1974. Kahn had just arrived back in New York from Ahmadabad, India, where the Indian Institute of Management he had designed was under construction. He was about to catch a train to Philadelphia in order to teach his Monday classes at Penn. Then, in a Penn Station men's room, his entangled heart gave out. It took three days before his family and friends and colleagues found out what had happened to him.
The story of his complicated personal life has been told many times, most movingly in My Architect. In addition to Sue Ann (his daughter by his wife, the late Esther Israeli Kahn Ed'27 G'33) and Nathaniel, he also had a daughter, Alexandra Tyng GEd'77, with the late architect Anne Tyng Gr'75 ["Journey to Estonia," Jan|Feb 2007]. His death was obviously very hard on all of them. But on a professional level it had to have been particularly devastating for Harriet Pattison. Not only had she just lost her mentor and soul mate and the father of her son, but she was suddenly out of a job. Of course, so were many others. But still …
It is not a time or emotional state that Pattison cares to revisit. "It's just the way it is," she says quietly, looking away.
"It's so sad, in retrospect," says Whitaker. "There was no forethought to what was being lost when she was asked to leave and her ties severed with the office. I think she didn't have the protector anymore. She was not welcome anymore, and she couldn't help. And the isolation that came from this, I think, was profound."