Constructing a New Kahn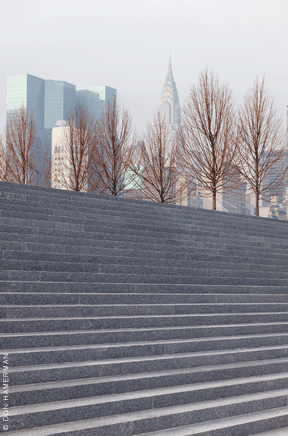 I had this thought that a memorial should be a Room and a Garden. That's all I had … I just chose it to be the point of departure. The Garden is somehow a personal nature, a personal kind of control of nature, a gathering of nature. And the Room was the beginning of architecture [and] an extension of self.
—Louis Kahn, from a lecture given at the Pratt Institute in 1973.
New York City is not exactly Big Sky Country, but out in the middle of the East River, the moniker doesn't seem so far-fetched. When you arrive at Four Freedoms Park and look up from the base of the 100-foot-wide granite stairs, you might find yourself thinking about the proverbial stairway to heaven.
From the top of the stairs, facing south, you look down a long, sweeping, triangular lawn, flanked on either side by allées of little-leaf lindens. Your eye is drawn to a distant … something. At first, because of the distance and the eye-widening frame of river and sky and skyline (Queens and Brooklyn on one side, lower Manhattan on the other), you might not be able to tell what that something is. But as you approach it, either across the grass or along the side paths on either side of the allées, and reach the triangular forecourt, you find yourself facing a large granite niche in which sits an oversized, disembodied bronze head of Roosevelt. He looks pensive, even a bit lonely, above the simple inscription: Franklin Delano Roosevelt 1882 -1945.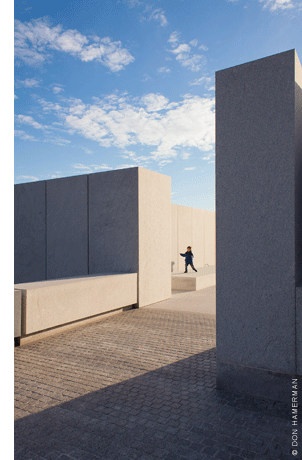 From there you enter the three-sided Room. Open on its south side to a glittering expanse of water and light and a Lower Manhattan skyline that prominently features the United Nations building, its only roof is the sky. There is no railing to block your view—just a ha-ha, a sort of granite trench at the prow of Kahn's ship that seems to erase the boundary between its granite deck and the river. Behind you now, inscribed on the south-facing side of the statue niche, is an excerpt from Roosevelt's 1941 "Four Freedoms" speech, whose words give a hint of his ability to inspire a nation that was then slogging from Depression to war.
The walls of the 60-foot-square Room are 12 feet tall—yet everything about it is both monumental and somehow … light. Its massive columnar cubes of granite are each separated by an inch, and the surfaces between them are honed to a reflective sheen, which allows the light to penetrate and dazzle. The faces are wire-sawn, to roughen their texture and capture subtle shades of light (and, in rain and fog, an almost sensuous patina). Clearly, you think, granite was the only medium that Kahn could have chosen for the Room.
Except that it wasn't. Stone was not his first choice of material. It wasn't even his second. As with so many things about Four Freedoms Park, there was a remarkable amount of evolution, change, refinement, driven by concerns both budgetary and esthetic. Had he lived longer, who knows what else might have changed?

The allées and the lawn help create a meditative sanctuary between Manhattan and Queens.